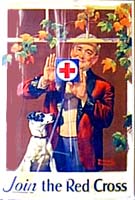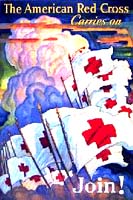 American Red Cross Posters
Since World War I, the American Red Cross has utilized posters to raise funds, recruit, promote, and expand awareness of its activities. Be it supporting the War Fund, recruiting nurses or Junior members, promoting health and safety programs...posters have often been a "first contact" with the general public.
With the cooperation and support of well-known artists of various eras, poster designs can and have been called fine art. Often, the print originated with a painting in oils, pastels, or charcol.
The links below will take you to a number of photographs of American Red Cross posters from different decades. Information includes the artist, year of issue (if known), the size, and if the poster was paper, carboard, or both. Not all posters are included; it is hoped more will be added in time.

If you are looking for information on a poster not shown, feel free to contact me by email. Send a detailed description of the poster or a .jpg picture and I will get back to you with what information I can.
Reproductions
Fulcrum Gallery has some authorized reproductions on their web site and the Library of Congress also has some posters available through their collections. Most LOC posters are WWI era although a few are mis-dated and are actually later.
Please use your back button to return to the main page or
Click here.